Last Updated: August 11, 2021
Do not remove, obscure, or change any notices displayed in or along with our services.
We are, the owner and operator of:
GCTRACKABLES.COM
website, mobile app, information repository, discussion forums, social media platform, augmented reality platform
CACHERHUB
web hosting, web development, social media management, and marketing platform
AFK
tourism, events, and attractions
For the purpose of this document, we refer to the services provided by us in relation to each of the above as our "Services" or "Platform". References in this document to "we", "us," or "our" are references to any of the platforms we own or operate.
GCTrackables is a Geocaching related site and we get most of our data from Geocaching.com, managed by Groundspeak Inc. To opt-out from us retrieving personal data from this third pary, the User needs to contact this third party.
Our Site may use "cookies" to enhance User experience. User's web browser places cookies on their hard drive for record-keeping purposes and sometimes to track information about them. User may choose to set their web browser to refuse cookies, or to alert you when cookies are being sent. If they do so, note that some parts of the Site may not function properly.
Content Management System
If you visit our login page, we will set a temporary cookie to determine if your browser accepts cookies. This cookie contains no personal data and is discarded when you close your browser.
When you log in, we will also set up several cookies to save your login information and your screen display choices. Login cookies last for up to two weeks, and screen options cookies last for a year. If you log out of your account, the login cookies will be removed.
If you edit or publish data to the site, an additional cookie will be saved in your browser. This cookie includes no personal data and simply indicates the post ID of the article you just edited. It expires after 1 day.
Dark mode uses a cookie to remember user preference.
WHAT PERSONAL INFORMATION DO WE COLLECT ABOUT YOU?
Personal information you give us
We collect and store the following personal information you give to us when you interact with us or our Services.
When you create an account with us, authorize your Geocaching account with us, or when you use our Services, we collect and store, but not limited to:
Account details (including your name, email address(es), and other identification information).
Profile information you provide such as any photo uploads and your "about" me information.
Information you provide to us when you sign up to receive our newsletter or other communications from us.
Information you provide when you enter a competition, prize drawing, or other promotion (for example, your name, email address, address, and other contact details, such as your telephone number).
Content and information you provide by interacting with our platform, sharing comments, media or by email to us.
Messages you send or receive through our communications Services.
Any information you provide as part of a survey.
Personal information we collect automatically
When you use our Services, we automatically receive and record information from your browser or mobile device for purposes of providing you services that are personalized, relevant and useful to you, but not limited to:
Your precise geolocation, where you have enabled this on your mobile device or GPS device.
The unique identifier for your mobile device.
Your IP address.
Time and date of access of the Services.
The name of the application you're.
Your user ID for the account through which you are accessing our Services.
Membership data, including whether you are a Premium or Basic member.
Your search data, including the latitude and longitude of any location-based search you perform.
Files, listings, and content that you access.
Which version of our application you're using.
Cookie information.
Information about the pages you request.
HOW DO WE USE YOUR PERSONAL INFORMATION?
We use your personal information for the following purposes:
To provide our Services to you and to administer your account with us.
To authorize, process, and track payments through our service providers' secure credit card and payment processing gateways.
To enable your membership status and follow up with you in connection with your membership.
To communicate through any of our communications Services.
For our own internal business purposes, such as analyzing the use of our Services (via services like Google Analytics and others), market research, and website and mobile application optimization.
To communicate with you about things we think will be of interest to you such as Geocaching related products, Services, Opportunities, Attractions, Events, and location-based entertainment-related activities.
To verify your identity.
To provide customer service and review issues with your account or your use of our Services.
To enable other users to receive and enjoy the Services.
To allow you to share your experiences using our Services with others.
To update you on changes to our Services.
To improve our products and Services.
To customize the content available through our Services.
To restrict access to our Services or communicate with users who have violated our Terms of Use, or otherwise violated our rights or the rights of others.
When you use this site several actions (e.g. commenting) trigger the dispatch of emails. They contain information about you associated with your email address. Which data are part of these emails depends on the action performed. These emails are stored and accessible to the site management as log.
This platform is build within the Digital Ocean's Cloud Platform using a mix of resources that include but not limited to: Droplets (Cloud Computers), Managed SQL Services, Space (static file hosting), and Content Delivery Network (CDN). For more information about how Digital Ocean manages privacy please refer to Digital Ocean's Privacy Policy.
CONTENT SHARED TO THE COMMUNITY
This platform has a mix of Geocaching HQ data and community supplied data. This data all comes together for the betterment of the community and to support Geocaching.com Trackables and the users who enjoy them. All comments, images and data uploaded in direct relation to Trackables, Trackable Types are considered to have been submitted as public domain for the community to use. By providing data to Trackables and Trackable Types, you agree that you have the authority to submit the data/works into the public domain.
Uploaded Media and EXIF Data
All uploaded files are usually publicly accessible. If you upload images to the website, you should avoid uploading images with embedded location data (EXIF GPS) included. Visitors to the website can download and extract any location data from images on the website.
While you engage in e-commerce via the shop or memberships, clubs, etc., we'll track:
Products you've viewed: we'll use this to, for example, show you products you've recently viewed
Location, IP address and browser type: we'll use this for purposes like estimating taxes and shipping
Shipping address: we'll ask you to enter this so we can, for instance, estimate shipping before you place an order, and send you the order!
We'll also use cookies to keep track of cart contents while you're browsing our site.
When you purchase from us, we'll ask you to provide information including but not limited to your name, billing address, shipping address, email address, phone number, and payment details. We'll use this information for purposes, such as, to:
Send you information about your account and order
Respond to your requests, including refunds and complaints
Process payments and prevent fraud
Set up your account for our store
Comply with any legal obligations we have, such as calculating taxes
Improve our store offerings
Send you marketing messages, if you choose to receive them
If you create an account, we will store your name, address, email and phone number, which will be used to populate the checkout for future orders. We generally store information about you for as long as we need the information for the purposes for which we collect and use it, or are legally required to continue to keep it. We will also store comments or reviews, if you choose to leave them.
WHAT IS OUR LEGAL BASIS FOR USING YOUR PERSONAL INFORMATION?
When we process your personal information, we will only do so where at least one of the following applies:
We need to use your personal information to perform our responsibilities under our contract with you (e.g. providing you with the correct membership level, administering the Services);
If it is in our legitimate interests and/or those of our partners and service providers to use your personal information. For example, it is in our legitimate interests to use your personal information to improve our website, to create enhanced Geocaching related features for you and other users with the use of public profile data, to ensure that our Services are secure, to tell you about new Services, products or offers, and to develop our business or platform.
WHO ON OUR TEAM HAS ACCESS
Members of our team have access to the information you provide us for account support and to ensure platform integrity.
WITH WHOM DO WE SHARE YOUR PERSONAL INFORMATION?
Except as provided below, we do not share or sell information that identifies our users personally or makes it possible for other parties to contact them directly.
We share your information as follows:
When you authenticate your Geocaching account with our service, we make your username and certain public details available via your user profile, such as whether you are Basic or Premium, when you joined and when you last visited the site, and trackable count and profile picture, available for other users who may want to add you as a friend in our system or understand your experience and activity level for purposes of determining your credibility or engagement level with the game.
If you choose to include personal information in your public profile, this may be viewed by other registered account holders who use our Services for purposes of enhancing the community aspects of the game.
Any information or content you post publicly will be shared with other users when you use the public features of our Services; for example, when you post a comment or photo.
Providers of online analytics services
We use tools such as Facebook Pixel, Google Analytics, Matomo Analytics, Plausible Analytics, and Hotjar to track how groups or categories of users interact with our Services.
Hotjar is a technology service that helps us better understand our users' experience (e.g. how much time they spend on which pages, which links they choose to click, what users do and don't like, etc.) and this enables us to build and maintain our service with user feedback. Hotjar uses cookies and other technologies to collect data on our users' behavior and their devices (in particular IP address, device screen size, device type, unique device identifiers, browser information, geographic location (country only), preferred language used to display our website). Hotjar stores this information in a pseudonymized user profile. Neither Hotjar nor we will match this information with further data on an individual user. For additional details, please see Hotjar's privacy policy by clicking on this link. You can opt-out of the creation of a user profile, Hotjar's storing of data about your usage of our site and Hotjar's use of tracking cookies on other websites by following this opt-out link.
We enable Google Analytics' User-ID feature to better understand how users interact with our Services over an extended period of time, from different devices and multiple sessions, so we can continue to improve our Services and provide the best experience for our users. User ID helps identify unique users across multiple devices and browsers. When you log-in to use our Services, your User ID is sent to Google.
We use Facebook Pixel to gather conversion data from Facebook owned platforms to site visitors.
NOTICE OF DATA COLLECTION AND SHARING PRACTICES
We do not sell your data, ever. Additionally we only share data where we have detailed above.
WHAT RIGHTS DO I HAVE IN RELATION TO MY PERSONAL INFORMATION?
Your rights in relation to how we use your information
You can choose how we use your personal information in the following circumstances:
You can add, update, or delete certain personal information by signing in to your account and accessing your My Account Settings.
You can choose to opt-out of sharing your public profile with our platform in the Account Settings of your Geocaching.com Authorizations.
If you choose not to provide personal information, we may not be able to provide you with our Services, or certain aspects of our Services.
Contacting us with any questions. We will consider all such requests and provide our response as soon as we can. Please note, however, that some personal information may be exempt from such requests in certain circumstances, which may include if we need to keep processing your personal information for our legitimate interests, to protect the privacy of others, or to comply with a legal obligation. Please note that we may request you provide us with information necessary to confirm your identity.
HOW LONG DO WE KEEP YOUR PERSONAL INFORMATION?
If you want to permanently delete your account or following your explicit request for deletion of any of your personal information, we will delete your account and/or help you to delete your personal information as requested. Deletion is limited to your account here on GCTrackables, and is not relevant to any other Geocaching.com Service provider.
Deletion is limited to your personal profile, and not Geocaching Trackables as these are part of the publically available data via the Geocaching API.
The way our systems are structured, in some cases, it may take up to 30 days for records to be deleted or overwritten. In some circumstances (set out below) we may keep your personal information for longer.
We reserve the right to delete any account for no given reason.
When you stop participating
If you stop playing or temporarily disable your account, without taking any further steps or asking us to permanently delete your account or personal information, we will keep your information as long as needed to ensure the integrity of the platform and the enjoyment of other participants. Your activity, trackable logs and any content/images associated with them will remain as part of the historic record of this service unless you delete them or explicitly request the permanent deletion of them. If you have provided personal information or content that other users need to use in relation to the Services (for example information about a particular trackable) we may retain that information for as long as we need to provide the Services to our other users, but we will delete the information or help you to delete the information upon your request.
We know that sometimes users take a break from the game and come back at a later time, which is why we don't automatically permanently delete your account and personal information if you stop playing or temporarily disable your account. We may contact you if you have stopped playing or temporarily disabled your account to update you on your account status and check your intentions.
Please note that once your account and personal information has been deleted we cannot get it back. If you don't ask us to permanently delete your account and personal information, except as provided above, we will keep it until you want to reactivate your account, and we will store it securely and in accordance with this privacy policy.
Information provided for a specific purpose
If you have provided us with personal information for a specific purpose, we will keep your personal information for as long as we need to fulfill that purpose. For example, if you have provided address information as part of a competition entry, we will keep that information for as long as necessary to administer the competition.
We will retain your contact details if you have an account with us or if we think you may be interested in marketing messages, offers, promotions, or new Services. You will always have the choice of opting out of receiving these messages. If you do so, we will remove you from our email marketing lists as soon as we can, typically within 10 business days.
If you have posted content to the platform, we will retain that content and its metadata for as long as we think the topic is relevant. After this time, we may delete it.
Where we have obtained personal information automatically about your use of our apps or website (e.g. analytics), we will keep this information for as long as we feel it may be useful to us to improve and develop our business. We will delete it when it is no longer useful. This will normally be within 24 months of completion of the purpose for which it was originally collected.
HOW DO WE PROTECT YOUR PERSONAL INFORMATION?
GCTrackables has implemented many security measures to protect against the loss, misuse, and alteration of your information. However, keep in mind that no security measures are perfect or guaranteed to be impenetrable.
Access via Authorization Only
We protect your account login integrity through the use of account Authorization via Geocaching.com. To protect the confidentiality of your information you MUST keep your Geocaching.com password confidential and not disclose it to any other person. Geocaching API Developers will never ask for your Geocaching.com Password.
TRANSFER AND STORAGE OF YOUR INFORMATION
The personal information which you provide to us, or which we collect about you, will in most cases be stored and processed in the U.S. However we do utilize datacenters in the: U.S., Germany, and the Netherlands. Our development team is in the U.S. and Sweden.
EMBEDDED CONTENT FROM OTHER SERVICES
Information posted on this site may include embedded content (e.g. videos, images, articles, etc.). Embedded content from other websites behaves in the exact same way as if the visitor has visited the other website.
These websites may collect data about you, use cookies, embed additional third-party tracking, and monitor your interaction with that embedded content, including tracking your interaction with the embedded content if you have an account and are logged in to that website.
Because much of this platform serves user created content, we are unable to make any guarentees.
Google Privacy Disclosures Policy
For more information, see:
What data does the Facebook pixel collect?
See the Facebook Cookie Policy for details about the cookies used and the data received. The Facebook pixel receives these types of data:
Http Headers – Anything present in HTTP headers. HTTP Headers are a standard web protocol sent between any browser request and any server on the internet. HTTP Headers include IP addresses, information about the web browser, page location, document, referrer and person using the website.
Pixel-specific Data – Includes Pixel ID and the Facebook Cookie.
Button Click Data – Includes any buttons clicked by site visitors, the labels of those buttons and any pages visited as a result of the button clicks.
Optional Values – Developers and marketers can optionally choose to send additional information about the visit through conversion tracking. Example custom data events are conversion value, page type, and more.
Form Field Names – Includes website field names like 'email', 'address', 'quantity' for when you purchase a product or service. We don't capture field values unless you include them as part of Advanced Matching, or conversion tracking.
What data does Matomo Track?
For more information, see:
Users may find advertising or other content on our Site that link to the sites and services of our partners, suppliers, advertisers, sponsors, licensors and other third parties. We do not control the content or links that appear on these sites and are not responsible for the practices employed by websites linked to or from our Site. In addition, these sites or services, including their content and links, may be constantly changing. These sites and services may have their own privacy policies and customer service policies. Browsing and interaction on any other website, including websites which have a link to our Site, is subject to that website's own terms and policies.
We accept payments through PayPal. When processing payments, some of your data will be passed to PayPal, including information required to process or support the payment, such as the purchase total and billing information. Please see the PayPal Privacy Policy for more details.
DO I HAVE TO BE A CERTAIN AGE TO USE THE SERVICES?
Because of the nature of our platform, enhancing Geocaching.com Trackable experience, our services are not directed toward anyone under the age of 18. Although, individuals under 16 are welcome but their parents or guardians must own and manage their accounts.
If you are under the age of 18 but at least 16, you may only use our services with the consent of a parent or legal guardian who agrees to be bound by this Agreement.
If you are a parent or guardian and discover that your child under the age of 16 has an account not created and managed by you, then you may alert us via postal mail and request that we delete that child's personal information.
GCTrackables may also be required to disclose an individual's personal data in response to a lawful request by public authorities or in connection with a legal obligation.
If a user decides to opt-in to our mailing list, they will receive emails that may include company news, updates, related product or service information, etc. If you do not want to receive our newsletter or marketing messages from us, you can click the "unsubscribe" link at the bottom of the email or message you receive or adjust your email preference in Account Settings.
Representation for data subjects in the EU and the UK
We value your privacy and your rights as a data subject and have therefore appointed Prighter as our privacy representative and your point of contact.
Prighter gives you an easy way to exercise your privacy-related rights (e.g. requests to access or erase personal data). If you want to contact us via our representative Prighter or make use of your data subject rights, please visit: https://prighter.com/q/11782621687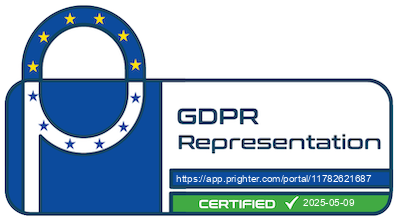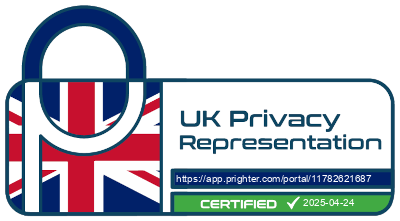 We may need to create new policies or update any of our policies, including this policy from time to time. When we create a new policy or post changes to our existing policies, we will revise the "last updated" date at the top of the policy page. Please review all our policies periodically. By using or continuing to use our Services/Platforms, you agree to be bound by the revised Agreement. If you do not agree to the revised Agreement, you should stop using our services. Changes will apply retroactively. If we have your email address, we may or may not email you with information on those changes.
QUESTIONS, CONCERNS & COMPLAINTS
If you have any questions, concerns, or complaints about any of our policies, feel free to contact us via postal mail with the information in the CONTACT area of this document. We will then get in touch with you to see how we can help.
We would always prefer you to contact us first as we will be the best resource to resolve the matter in the shortest time.
If you need to contact us about a casual situation, feel free to reach out to us via the available Messenger chat.
If you have questions regarding our Policies, please write postal mail to:
GCTrackables
PO Box 43272
Cincinnati, OH
45243 USA